British Brutalist Buildings in the East End of London, Ernő Goldfinger, and Peter and Alison Smithson
In the Brownfield Estate in Poplar, East London,
Balfron Tower (architect: Ernő Goldfinger – yes Ian Fleming disliked his work so much that he named a James Bond villain after him!).
Neighbouring Carradale House (also Ernő Goldfinger). A passing resident of Glenkerry said the refurbishment had taken 3 years, with the heritage people constantly having to correct the work to ensure that it looked exactly like it would have when it was first built. He thought the refurbished units would provide both mixed private and social housing.
Glenkerry House just across from Carradale House (from the studio of…yes, Ernő Goldfinger).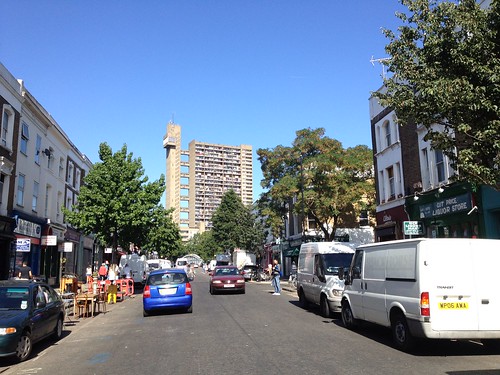 Goldfinger was the architect also of the remarkably similar Trellick Tower in North Kensington.
Just a 3 minute walk away from the Balfron Tower Conservation Area, Peter and Alison Smithson's Robin Hood Gardens is slated for demolition, to be replaced by something that looks remarkably similar to Singapore Housing Development Board public housing tower blocks. I do not know if the succeeding architects gave as much thought to the project as the Smithsons in the 1960s:
What should to preserve and what to demolish? In church tradition terms, one might be hard-put at times to distinguish between "gospel issues" and practices of no direct biblical consequence, until one is removed from one's home culture and embedded in another. Of course it should be evident by faithful reading of God's word, but it is surely sharpened by being lived out/observed in real life. And it is by comparing the different attempts to work out the gospel in a godly manner in a variety of contexts that one see can more clearly – so as to cling hard to biblical truth but hold lightly to the hobbyhorses that have either been inherited from our forebears or have been a (severe) reaction against the perceived errors of the previous generation. And sometimes it takes someone from a different planet to tell us so – but hey, not that we're calling Kevin DeYoung an alien or anything…
Categories:

architecture and buildings, external architecture and design
architecture, Balfron Tower Conservation Area, Blafron Tower, brutalism, brutalist architecture, buildings, Carradale House, East End, East London, Ernő Goldfinger, Glenkerry House, Kevin DeYoung, London, Peter and Alison Smithson, Poplar, post-World War II architecture, Robin Hood Gardens